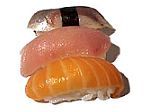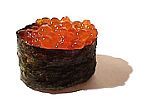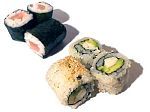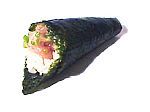 We Offer Variety of Nigiri Sushi, Sashimi, Special Rolls (Maki or Hand Rolls)!!! For those who are not so fond of raw seafood, We have different kind of Noodles (Ramen & Udon), Rice Bowls, Tempura Dishes and even good variety of Teriyaki Dishes.
Not to forget, we also have a special section that dedicate to our vegetarian customers. So, in Maki Express, you will definitely find something that satisfy your taste bud.....
With the creativity of our Sushi Chef, we always looking for new ways in making our sushi......so, you will find a lot of very creative version of sushi in Chef Special's menu....
So, come in and join us for Lunch or Dinner. Let us do the cooking and you can rest and enjoy the flavorful, creative, and of course delicious Japanes Cuisine....